WE MAKE GRAPHIC DESIGN EASY
It all starts with Graphic Design. Logos, Fonts, Colours and Image.
Good Graphic design makes you look good. Great graphic design allows you to make a positive first impression on those that matter. Customers form an initial opinion in a matter of seconds and it takes a lot more time to have that customer change their original impression. Aesthetically pleasing, professionally designed graphics will cause other persons to form positive opinions about your product, service or brand.
People have choices. It's important to know that the graphic design that you choose to represent your brand can set you apart from your competition – whether negatively or positively. Great design stands out in the minds of decision makers and can influence their choices, both deliberately and subconsciously. By nature, people like to associate with things that look good and make them feel good. By investing in quality graphic design, you are significantly increasing your brand's ability to stand out in the minds of key decision makers.
WE MAKE YOUR LIFE EASIER
Infographics
Infographics are used as a powerful tool to allow people to easily understand information through the use of visual data, charts, and statistics. With the use of colour, proportion, and information we can transformation important data into memorable, attention-grabbing and even persuasive graphics.
Posters
There are numerous techniques a company can do to promote its business to its potential customers without having to shell out a lot of money. Probably the most versatile and cost-effective medium of marketing is using banners and posters for advertising. The combination of banners and posters is a conventional tried-and-tested medium that has proved timeless in its ability to transmit information to the public. Posters works because they help people retain the brand's image through visualization and it's a fact that humans can retain visuals a lot longer than texts.
BROUCHERS & LEAFLETS
A well-designed brochure serves as a perfect introduction to your business products and services. Accurately distributed, brochures can expand your company's visibility. Brochures are a great marketing tools when reaching out to new customers. Brochures can provide positive press about your company.
Simply put, marketing brochures are one of the most effective and versatile marketing tools used to inform customers about your services and products. They are simple to produce, cost effective and easy to distribute.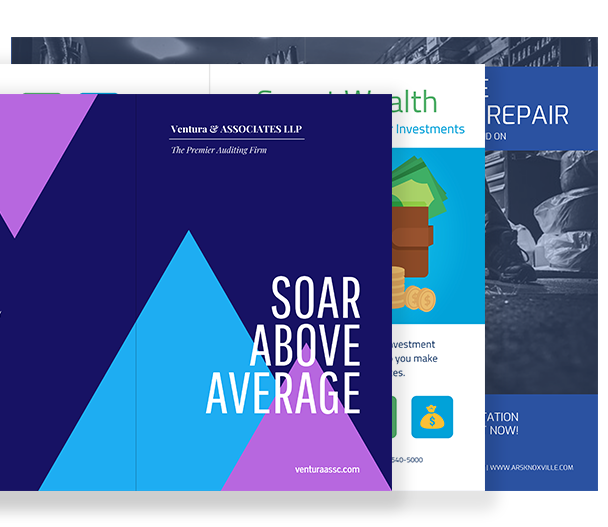 Marketing Materials
Business cards for example are part of an introduction, they are important for making a favourable first impression. An attractive, eye-catching business card with all the relevant contact information can capture the attention of your customers and help you remain in their memory well after your initial meeting. The same can said about any print paper you use to contact with suppliers and customers. Letterheads for example are important because of their wide range of uses.
EXPLORE THE OPPORTUNITIES OUR GRAPHIC DESIGN CAN BRING
Harness the power of Graphic Design to keep your customer base engaged.
Businesses need the services of graphic designers to create impressive marketing materials. Just remember your customers will judge you by your look.