Top

tips

on

presenting

a

Professional

Google

Business

Profile.
When thinking about your Google Business Profile there are a few things you need to take into consideration. Firstly, we would congratulate you on as excellent choice. You are definitely linking up with the right search engine. Indeed 92.7% of all searches globally are on Google. Therefore, making sure you have an optimised Google Business Profile fit for purpose and ready to engage with customers is a high priority item on your marketing strategy.
"be the launch pad that gives credence to who you say you are"
Secondly, now that you have established that you would like a Google Business page profile to demonstrate your services and products you need to lay a solid foundation that will work hand in hand with Google to best showcase your business to perspective clients. Indeed, your Google Business Profile needs to offer valuable information about your Business. Not only your Location, Service, or even your Products. But also, your most up to date contact details, operating hours and relevant reviews. In fact, your Google Business page will be the launch pad that gives credence to who you say you are, and give the confidence required for a customer to send you that all important inquiry.
Make sure all of the information in your Google Business Profile is accurate and up-to-date. This includes your business name, address, phone number, website, and any other relevant information. Further more make sure your Primary Category display is correct and also consider a secondary category display as a backup. Indeed, if you are not sure about what categories or sub categories to use, go have a look at your local competitors and see what they have classified themselves as.

Furthermore, also make sure your Open times, contact details and phone numbers are the same on your "about us" or "contact us" page of your website.
Simple information such as opening times and closing dates should be kept up-to-date and accurate. Want to know more about How we can help you? click here for More Info
Google

My

Business

Profile

needs

good

High-Quality

Photos.
A captivating visual captures the attention of the viewer, and then we use that focus to figure out what the message truly is trying to convey. Want to know more about How we can help you? click here for More Info
Adding high-quality photos that are engaging and showcase your business perfectly as you intended is a must-add feature to your Google Business Profile. In fact, this will probably be your client's justification to scroll further through your profile as they start to read even more engaging facts about your Business and services.

Furthermore. In Google's own words by uploading photos to your Google Business profile you will receive 42% more requests for directions on Google maps and 35% more link clicks to your website.
If you think photos are not important, you really need to think again.
Always bear in mind that engaging visual content, be it Photography or videography will help customers get a much better understanding of your business and increase your visibility. Additionally showcase the human element of your business. Make it personal. If possible, include photos of your team as this will showcase a personal touch that will surely catch the attention of those making the inquiry. Also consider making internal photos, external photos, or even common areas in and around your building.

Furthermore, if you are a restaurant or food delivery service also upload menu photos along with examples of your delicious food. In fact, food photos can be very difficult to get right. But they are 100% essential for the success of you Google Business Page. So, take your time do some research or if your budget reaches that far start to think about the cost of a professional or amateur photographer that will get the job done perfectly.
So, when thinking about keywords Think about words that people might use to search for your business. Indeed, it might be more than just one word. It might be a small sentence. But whichever you decide to use you should make sure you use the keywords in the correct context.

Also, avoid doing what some people do which is Keyword stuffing. In other words, forcibly repeat certain words in a false attempt to make their page look more relevant for that particular keyword search. In fact, this practice is totally frowned upon by Google Business Page and could end up getting your profile downgraded or even worse suspended.
"Also avoid doing what some people do which is Keyword stuffing"
For example: if your keyword was "red shoes" we would not recommend the following:

We have the best "red shoes" available and are experts in the sale of "red shoes". Indeed, not only are we experts in the "red shoe" industry but we also have some of the best "red shoe" examples from which you can choose your next perfect pair of "red shoes".

As you can see from this example the mention of red shoes is done way too often. Indeed, once you try to read this description again it almost makes no sense. However, the Keyword we were trying to push for "Red Shoes" is repeated 5 times. But, this type of Keyword stuffing is definitely something you should avoid as it will penalize you in the long run and most likely get your Google Business Profile downgraded if not suspended.
Find

Relevant

Keywords

and

use

them

correctly

in

Google

My

Business.
If you are struggling to find relevant keywords, enter a search term in Google's search engine. Then scroll down to the bottom of the page and take note of the alternative examples Google is suggesting. Want to know more about How we can help you? click here for More Info
Respond

to

Reviews

quickly,

politely,

and

personally.
Keep your future guests engaged with your business. Create a promotion campaign that encourages not only returning guests. But also friends and family to visit. Want to know more about How we can help you? click here for More Info
This one sounds obvious but responding to reviews is a great way to show customers that you value their feedback and are willing to help. Remember that not all customers will take the time to leave reviews so when a review is added, whether positive or negative always take the time to respond. In fact, make the response personal to the client. Show them and anyone reading the review that you not only care that they took the time to write you a review but you replied quickly, politely, and personally. In fact, if you can you should mention your client's name or a particular detail that stood out. Indeed, these small details are important factors that will make you stand out.
"Don't be embarrassed or think that asking for a review will make you look desperate."
Furthermore, be pro active in asking for reviews. Moreover, encourage your clients to leave reviews. Don't be embarrassed or think that asking for a review will make you look desperate. Nothing is further from the truth. Indeed, if you want your business to grow you need to build credibility within your Industry and trust with future clients. So, if need be set up an email campaign where you actively encourage reviews in a polite and un intrusive manner.

In summary, Reviews are like money on the table. I am sure you would not walk away and leave money on the table without asking if it belonged to someone. So therefore, why not ask for that all important review before the client leaves your business or before he loses the motivation to help you.
Keep your profile updated with any changes or new offers to your business. Indeed, maybe it's the Christmas Holidays and you need to update your opening hours. Maybe, you are about to create an event or special promotion. Well, make sure you tell people about it. Indeed, this will help keep your customers and potential customers informed about what is going on with your business and just how pro active you are at keeping them informed. Google My Business algorithm will love you for it as it will show Google that you are highly motivated and keen.
"Make sure Google knows you are ready for business"
Also, you need to facilitate the indexing of your website via the google algorithm. Indeed, this is where google takes a look at not only your website content. But also, its structure and reliability. If this all sounds very alien to you not to worry too much. There is a high probability that the Google algorithm has already indexed your website. However, should you want to make sure you can use Google's Search Console Tool that will help you remove any doubts?
Update

Regularly

and

make

sure

your

website

has

been

indexed

by

Google.
The chances are extremely high that Google has already indexed your website. In fact, a really easy way to find out it place your full domain in the Google search bar. then, see if the algorithm displays your website as a result. click here for a YouTube Video
Link

to

social

media

and

create

backlinks

for

your

website.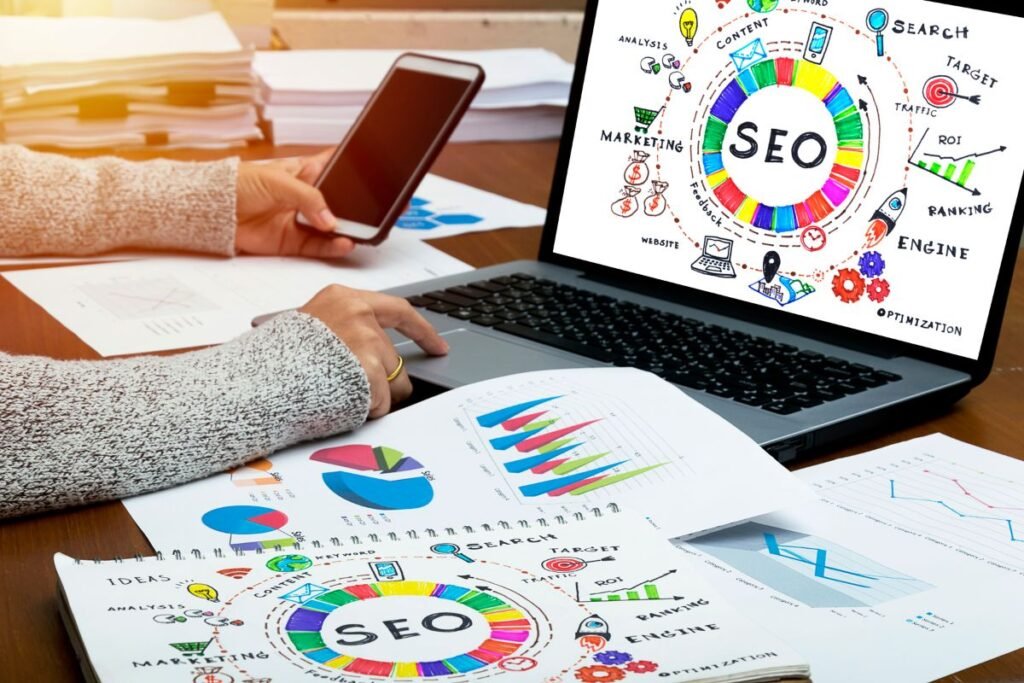 Backlinks from official associations or government departments carry a lot more weight in the authority score. Want to know more about How we can help you? click here for More Info
Linking your Google Business Profile with your social media accounts will not only allow customers to stay up to date with what is going on with your business. But it will also help you gain more followers and increase engagement. Which is always an advantage. In fact, it's always a great idea to make sure all of your online media profiles link to one another whenever possible. Indeed, this will only increase your customers chances of converting that inquiry to a conversion or sale.

Furthermore, you should also look into creating what is called backlinks for your website and profiles. Indeed, not only is it the number of backlinks you have available on your website that count. But the quality of the backlink which is far more important than the quantity. For example, if your website is for a Driving school. Having external links (Backlinks) from say a removal company website to your driving school is classified as a backlink. However, it does very little or nothing at all for your page authority score with Google.
"Want to be taken seriously? Well, what you need is page authority."
Alternatively, let's say you have a link from the government department for transport that forwards visitors to your driving school. Well, now we have a huge positive, because not only is this website directly involved with your industry. But it also is a government department. In fact, this is a huge vote of confidence from an official body, meaning Google Business Page will give your profile priority and place you higher up the search rankings.
Last but not least. Make sure you take full advantage of the Google Business Page to update features and Google Posts to showcase all your products and services. Indeed, this is a great way to not only share important updates and news about your business. But also, highlight special sales promotions and new exciting product launches.

Moreover, the update feature on Google Business Page allows you to upload photos, text, and even links to help customers stay informed. But, make sure you link these updates to relevant pages within your website. This way, not only will you increase your click-through rate, but also increase conversions, bookings, and sales.
Utilize

Google

Update

&

Posts

Feature

to

make

your

Google

My

Business

Profile

stand

out.
Keeping your Google My Business Profile page up-to-date with your product or service images is a must if you want to be found. Want to know more about How we can help you? click here for More Info
In conclusion, there is so much more than meets the eye when creating and optimizing your Google My Business profile. However, get it right and it will handsomely reward you for your efforts by making sure your profile is visible and ranks higher than that of your competitors.
Ultimately following these tips, and you will create not only an effective Google My Business profile. But also, a lead-generating machine.  Either way, we want the best for you, your family, and your business.
If you need help or you would like to find out more about our services, please don't hesitate to contact us. Either via the international phone numbers available or simply fill in our FREE CONSULTATION form and we will be very happy to have an informal chat with you about what, or how we could help you.
So Good luck, stay strong, stay positive, and most importantly believe.